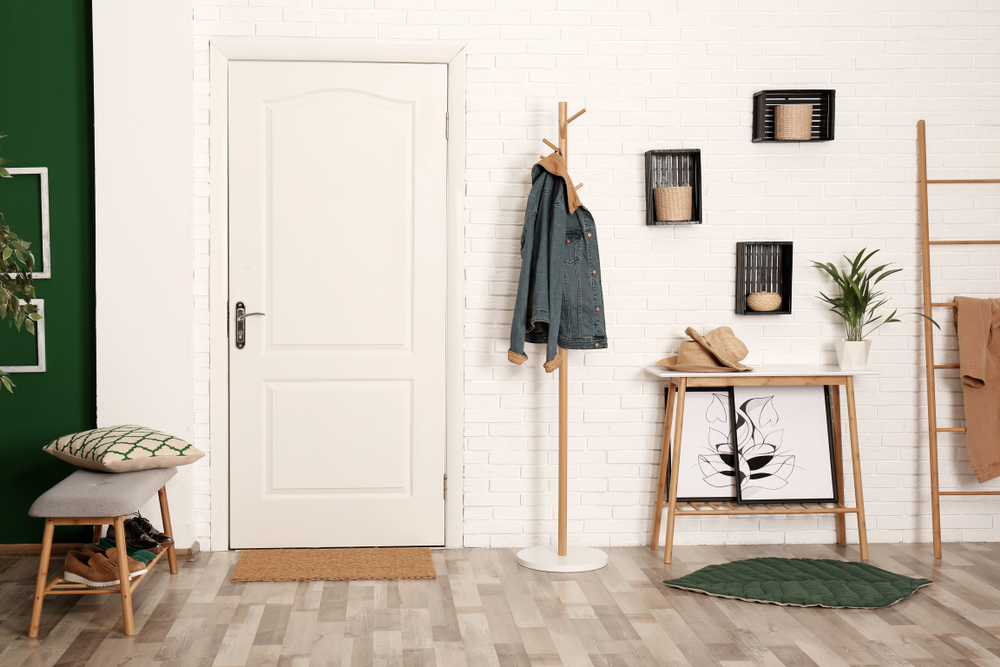 Breathing Life Back into your Entrance Hall
When it comes to your home, first impressions count. From the moment that you open your front door, your guests get a feel for the type of property that they are entering; chic, modern, classic or homely. Often the hallway is neglected as the place for coats and shoes, but it really does set the tone for your home, so we have put a few tips together to make the most of your entrance hall, no matter how big or small it may be.
Stick to neutrals
When it comes to your hallway, you want a bright and welcoming space – maximise what you have by using neutral colours such as cream and white as they will maximise the light that you have available. Mirrors are welcome in this area not just for a final check before you leave the house but also because they will reflect light around the area and give the illusion of more space.
Keep the storage practical and appealing
A hallway will always be the home for shoes, coats and miscellaneous items, therefore designing a space that doesn't take this into account is a recipe for mess to be created. Embrace the storage and pick practical items, such as coat stands and shoe racks that are visually appealing; think of vintage piping that makes a statement or gloss white materials that sets a modern tone. Finding vintage items and painting them in similar colours to rooms that are close to your hallway is also a nice touch as it ties different parts of your home together as one.
Use the floor
In smaller spaces such as the hallway, you can be bold with your flooring choices, especially if the rest of your colour scheme remains neutral. Flooring such as bold geometric tiles will create an instant visual impact, are hardwearing and practical and will help to make the space feel larger due to the repeating pattern. If you want to make a smaller change to your flooring, adding a rug is the ideal choice as it breaks up the flooring area and is easily changeable.
Have stairs? Make them a feature!
If your hallway opens onto a stairwell then embrace the extra wall space and create a gallery of images and artwork that run up the length of your stairs; the frames going up the wall will create depth to your hallway and provide some visual interest. Use frames which vary in size, shape and style in order to create an eclectic yet cool feel, and if you are unsure of layouts then trace your frames onto pieces of paper first and use them to see which layout looks best.
Looking to add a pop of colour?
Although a hallway is often a simple thoroughfare, adding pops of colour can inject some personality into an otherwise neutral and practical space. Using window blinds that feature a bold print can be a nice way to add some interest into the hallway without adding clutter through accessories in the space. Your lighting in this space can also afford to be more bold; use brighter light shades or alternative shapes to create some visual interest.